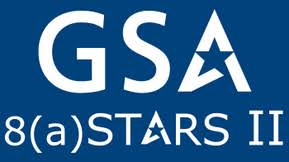 Montel Technologies is proud to be an 8(a) Streamlined Technology Acquisition Resources for Services (STARS II) Government-wide Acquisition Contract (GWAC) holder. Montel has been awarded this contract vehicle based on our ability to demonstrate competitive pricing and technical proficiency. STARS II is a multiple-award, indefinite-delivery/indefinite quantity (IDIQ) contract designed to provide technology solutions to federal agencies from award-winning 8(a) small businesses.
GSA Contract number: GS00Q17GWD2211
DUNS Number: 099312568
Federal agencies, using our 8(a) STARS II GWAC, are able to access Montel through an established contract vehicle instead of traditional, open market methods. Our STARS II GWAC saves both time and money for federal agencies, as well as provides access to our proven capabilities as a technology provider. The 8(a) STARS II GWAC is intended to promote small business utilization by federal agencies when purchasing IT services or IT services-based solutions. Montel's designation as a GWAC contract holder includes the following functional areas as outlined by the North American Industry Classification System (NAICS):
517210             Wireless Telecommunication Carriers
541330             Engineering Services
541512             Computer System Design Services
561621             Security System Services
517210             Wireless Telecommunications
The 8(a) STARS II program is reserved exclusively for qualifying certified 8(a) small business concerns as prime contractors. Below we have outlined the benefits of using 8(a) STARS II GWAC:
Benefits:
Directed task orders up to $4 million
Competitive task orders within the $10 billion GWAC ceiling
Facilitates integrated IT solutions by permitting other direct costs when integral to the IT effort
Scope may include project management services
Flexibility of contract types: fixed price, labor hour and time and materials
Earn 8(a) small business credits
Streamlined ordering process
Wide range of pre-negotiated, locality-based labor rates
Low contract access fee (0.75%) built into the rates
For more information on how our 8(a) STARS II GWAC can support your IT requirements, please contact Montel's Industry Partner's Program Manager by phone at (815) 966-1267, if you need further information please visit the 8(a) STARS II website or the 8(a) STARS II contract page.